Celebrate this Victory Forever
On sale now
The Atlanta Journal-Constitution (AJC) is excited to invite you to join our new digital community centered around news and events covered by the AJC. We are commemorating important events for metro Atlanta and registering these moments for permanent storage using blockchain technology. We welcome you to become an initial member of the AJC NFT community.
Our initial mint will celebrate the end of a 26-year wait for the Atlanta Braves to bring home a World Series championship.
Over the next few weeks, the newspaper will launch an initial series of NFTs for the AJC digital community. We are re-creating our three collectible front-page editions to forever commemorate the Atlanta Braves victory. To celebrate a 2021 championship, there will be 2,021 mints of each edition. Some of these will be held in reserve.
These limited runs are on sale now.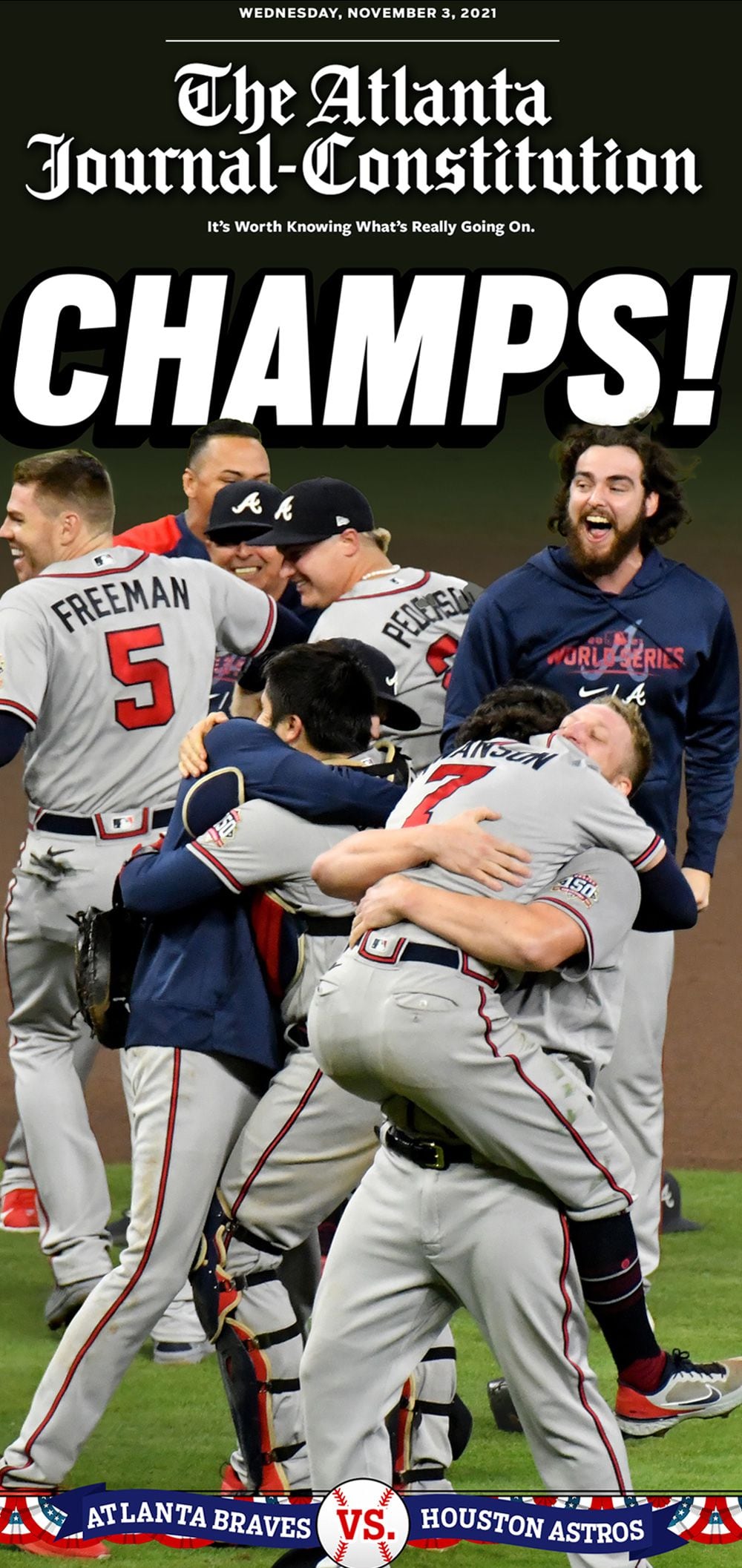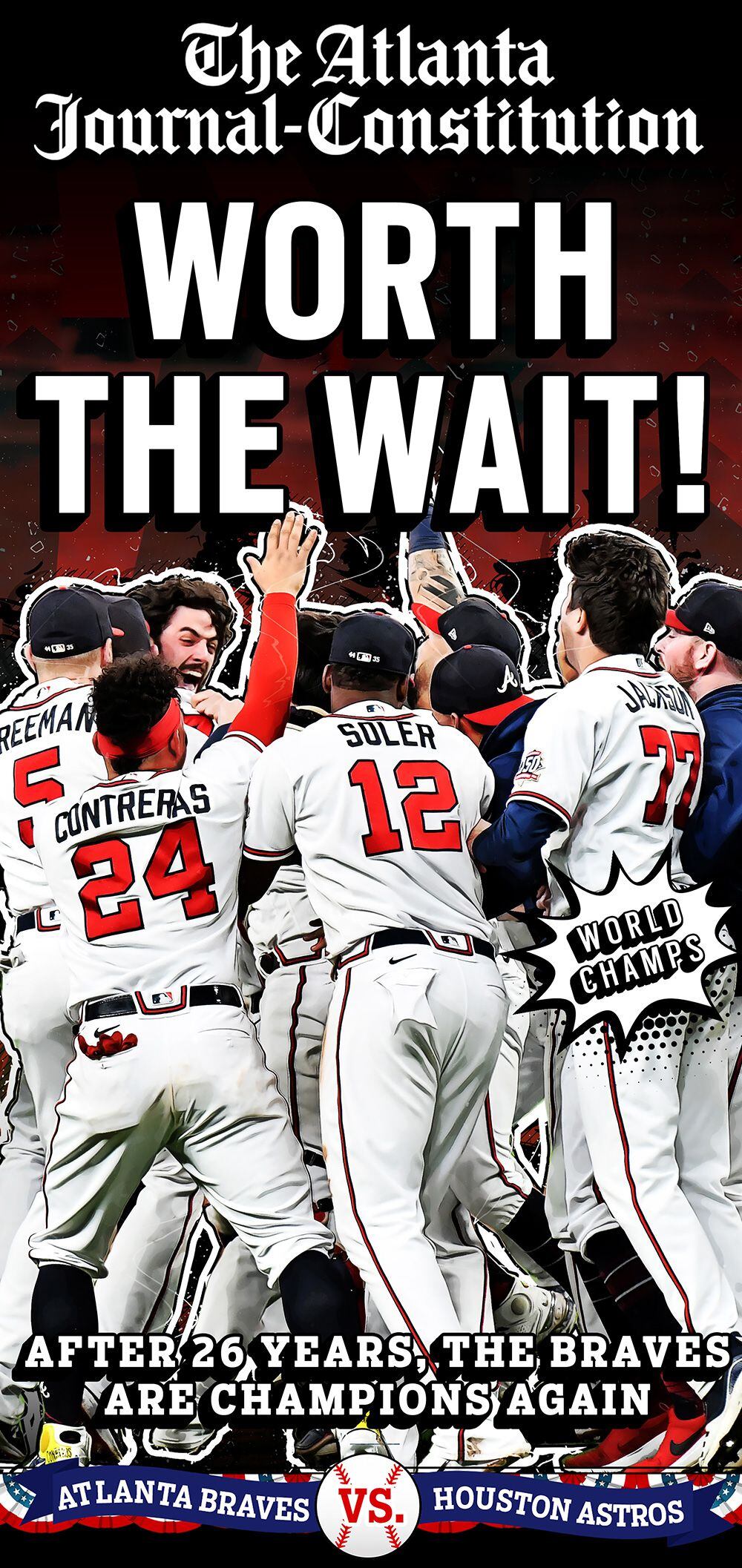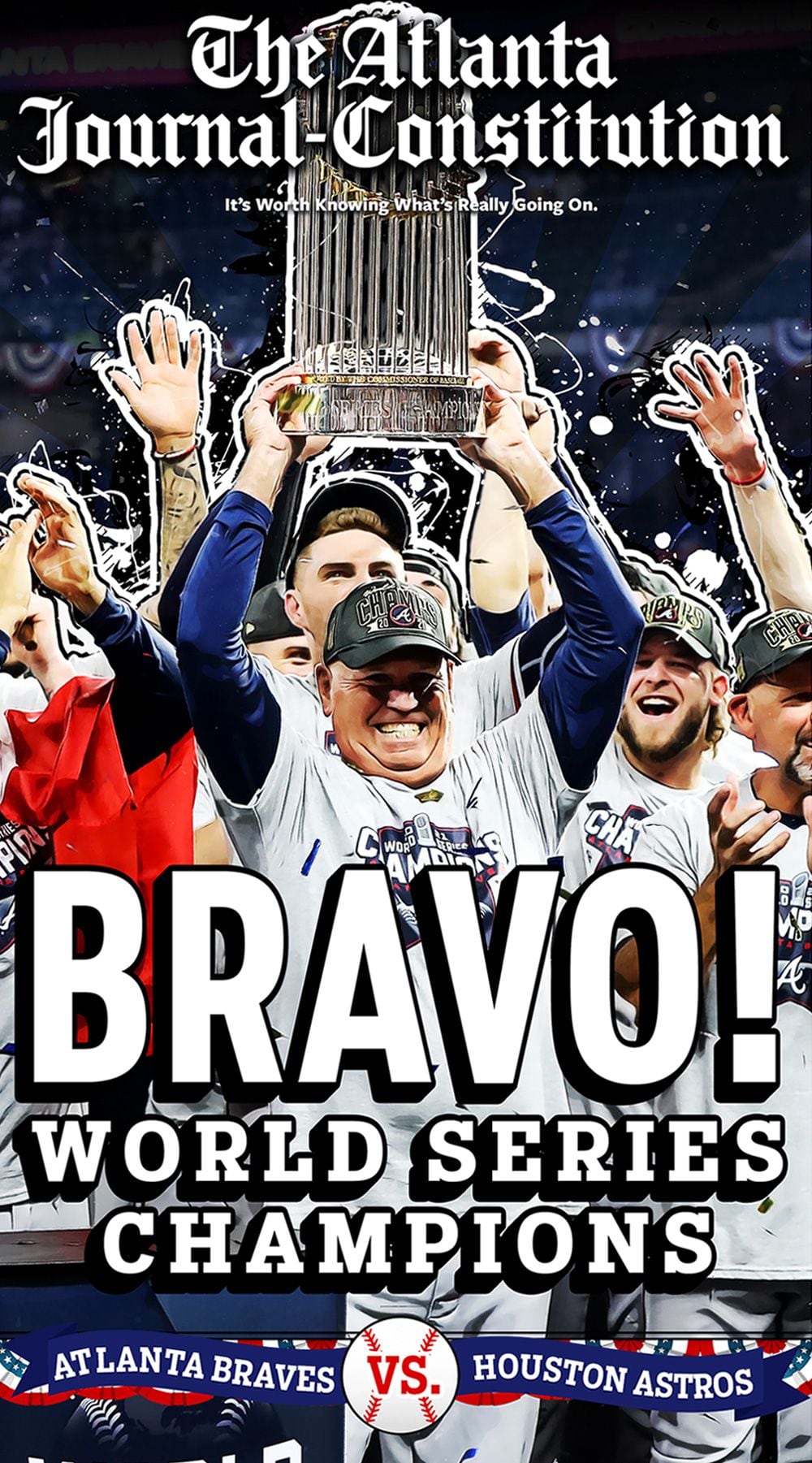 Half of the proceeds from this initial run will go to the Henry Louis Aaron Fund. Established by the Atlanta Braves in 2021, the fund supports Henry Aaron's life-long passion to increase minority participation in baseball.
Over the coming months, we will be building more features and benefits around the AJC NFT experience. We are excited to invite you join us for these first steps, while celebrating the historic victory of our Atlanta Braves.
Welcome to the new digital community for metro Atlanta and the Southeast.
FAQs and Terms of Purchase
NFT stands for "non-fungible token." But what it really means is that it's a digitally signed, unique asset on the internet. Most NFTs are typically registered to the blockchain where the ownership and transfer record is stored forever. The world of NFTs is quickly evolving, but it's common to think of an NFT as both a form of "rare art" as well as a sort of "membership card" to any given NFT community.
AJC NFTs are a new collection of digital assets curated from the issues and archives of The Atlanta Journal-Constitution. They feature important, memorable and historic events for metro Atlanta and the Southeast. They are series-limited mints registered on the Ethereum blockchain.
Owning an AJC NFT is a great way to own a part of Atlanta culture. The AJC NFT team will deliver online and offline experiences for members of the AJC NFT community. Additionally, a portion of every AJC NFT offering will be given to a community organization to help the Atlanta region grow and thrive.
In order to buy an AJC NFT, you need to have an Ethereum wallet and Ethereum cryptocurrency. Common wallets include Metamask and Coinbase Wallet. Your wallet address is registered on the blockchain where your NFT is stored. The AJC NFTs are available for sale on the OpenSea platform. Any issues or disputes concerning the bidding, purchase or payment for AJC NFTs are subject to the OpenSea terms of service and any other applicable terms and should be addressed to OpenSea.
When you purchase your AJC NFT, please be aware that Ethereum transaction fees (commonly called "gas fees") will necessarily be charged, and that such fees are exceptionally high right now. Depending on the time of the transaction, it may take up to 0.05 ETH (approx. $200 as of Tuesday, Nov. 16 ) to complete your transactions. These fees are part of the Ethereum network, and none of this fee comes to the AJC or the AJC NFT community.
WHAT IS A GAS FEE
AND HOW IS IT DETERMINED?
Gas fees are payments made to the Ethereum blockchain to cover the cost to process and validate transactions. The level of gas fees is determined by the amount of traffic of all transactions on the Ethereum network. When the network is busy, gas costs more.
WHAT CAN I DO
WITH AN AJC NFT?
In many ways NFTs are a type of digital collectible. Like a baseball card or a painting, their primary value is that they are a rare and original item. As the owner of an AJC NFT, you have the right to display it for non-commercial purposes. For these NFTs you will not get any commercial use or republishing rights, and all other intellectual property rights associated with the AJC NFTs will remain the exclusive property of the AJC and/or any other owners of such rights.
However, the AJC aims to create a community around its NFTs. We are designing programs and events for people who hold AJC NFTs in their wallets. We look forward to engaging with the members of this new digital community, in Atlanta and around the world.
When you own an AJC NFT, you have the right to sell or trade that NFT on any supported exchange, subject to any administrative and/or other applicable costs, taxes or fees associated with such sale or trade. Note that when selling any of the AJC NFTs for ETH on a supported exchange, 2% of the sale price will automatically be paid to the AJC as a resale royalty.
Terms of Purchase (effective as of November 16, 2021): All intellectual property and/or other content associated with the AJC NFTs in any way (including without limitation all copyrights and trademarks) remains the property of Cox Enterprises, Inc. d/b/a The Atlanta Journal-Constitution (the "AJC") and/or other owners of such rights. The lawful purchaser of any NFT minted and/or offered by AJC is granted a limited, personal, non-exclusive, non-sublicensable, revocable license to display that NFT and/or its associated visual content (collectively, the "AJC NFT") for non-commercial purposes, and to trade, resell, or otherwise transfer ownership of the AJC NFT. All other rights of any kind—including without limitation the right to license, commercially exploit, reproduce, distribute, prepare derivative or modified works, publicly perform, or publicly display the AJC NFT and/or any of the content therein—are expressly reserved and not granted. To be clear, purchasing an AJC NFT does not give you ownership of any content therein or any associated intellectual property rights other than those expressly licensed above.
Neither AJC nor any affiliated persons or entities shall be responsible for any damage or loss of any kind incurred in connection with the purchase, sale, or display of any AJC NFT. AJC has no liability to you or to any third party for any claims or damages that may arise as a result of any payments or transactions related to AJC NFTs that are made to or via OpenSea or any other third party. Any and all disputes against AJC or any affiliated persons or entities arising in connection with the AJC NFTs in any way shall be governed by, construed, and enforced in accordance with the laws of the State of Georgia as they are applied to agreements entered into and to be performed entirely within Georgia and without regard to conflict of law principles.
For the sake of clarity, without limiting the foregoing and subject to applicable law, the owner of an AJC NFT may not (i) commercialize the AJC NFT, including in connection with the marketing, advertising, or selling of any third party product; (ii) modify the AJC NFT in any way or combine the AJC NFT with, or embed the AJC NFT into, any digital or other content or media; (iii) use the AJC NFT in any manner which infringes upon the intellectual property rights of any person or entity; or (iv) use the AJC NFT in connection with or to promote any illegal activity, hate speech, violence, inappropriate or obscene content, or in any other manner which could tarnish or harm the reputation of AJC or any of its affiliates or subsidiaries, or any individual or entity whose name, image, likeness, trademarks, or copyrighted material appears in connection with or is represented by the AJC NFT.
The purchaser of an AJC NFT will be solely responsible to pay any and all sales, use, value-added and other taxes, duties, and assessments (except taxes on AJC's net income) now or hereafter claimed or imposed by any governmental authority associated with the purchase, ownership, sale, transfer, or display of an AJC NFT.
The value of NFTs is subjective and may fluctuate over time. The purchase, sale, or other transfer of any AJC NFT is made, accepted, and/or facilitated by any party entirely at that party's own risk.
LIMITATION ON LIABILITY. IN NO EVENT SHALL AJC BE LIABLE TO YOU OR ANY THIRD PARTY FOR ANY INDIRECT, CONSEQUENTIAL, EXEMPLARY, INCIDENTAL, SPECIAL OR PUNITIVE DAMAGES, INCLUDING LOST PROFITS, LOSS OF GOODWILL, LOSS OF REPUTATION, COST OF COVER DAMAGES OR INTANGIBLE LOSSES OF ANY KIND ARISING FROM YOUR PURCHASE, DISPLAY OR TRANSFER OF ANY AJC NFT AND/OR YOUR INABILITY TO DISPLAY OR TRANSFER ANY AJC NFT, EVEN IF AJC HAS BEEN ADVISED OF THE POSSIBILITY OF SUCH DAMAGES. NOTWITHSTANDING THE FOREGOING, TO THE FULLEST EXTENT PERMITTED BY LAW, IN NO EVENT WILL AJC BE LIABLE FOR ANY DIRECT DAMAGES EXCEEDING THE GREATER OF THE FEES YOU PAID TO US FOR THE AJC NFT(S) THAT IS/ARE THE SUBJECT OF THE CLAIM AT ISSUE OR ONE HUNDRED UNITED STATES DOLLARS.
These Terms of Purchase shall apply to all lawful owners of any AJC NFT, regardless of how it was acquired, and shall remain in full force and effect at all times during and after such ownership. AJC reserves the right to amend these Terms of Purchase at any time and entirely at its discretion, and any owner of an AJC NFT is subject to the Terms of Purchase in effect at the time such ownership begins.