FLOWERY BRANCH - Falcons offensive coordinator Dave Ragone's experience working with a head coach that calls his own plays will come in handy.
He was with the Bears where Matt Nagy called his own plays like Falcons first-year coach Arthur Smith will do this season.
"So, my job, more than anything else is really to help set the table," Ragone said. "So, during the week from an install standpoint, speaking in front of the offensive players, helping to design the game plan with obviously his collaboration.
"Making sure that he's comfortable with what's on that sheet and then doing all of the coordination parts of the practice, the scripting, those things. He has a dual mandate, he's the play-caller, but he also is the head coach."
While Ragone will not call the plays, he has plenty to do.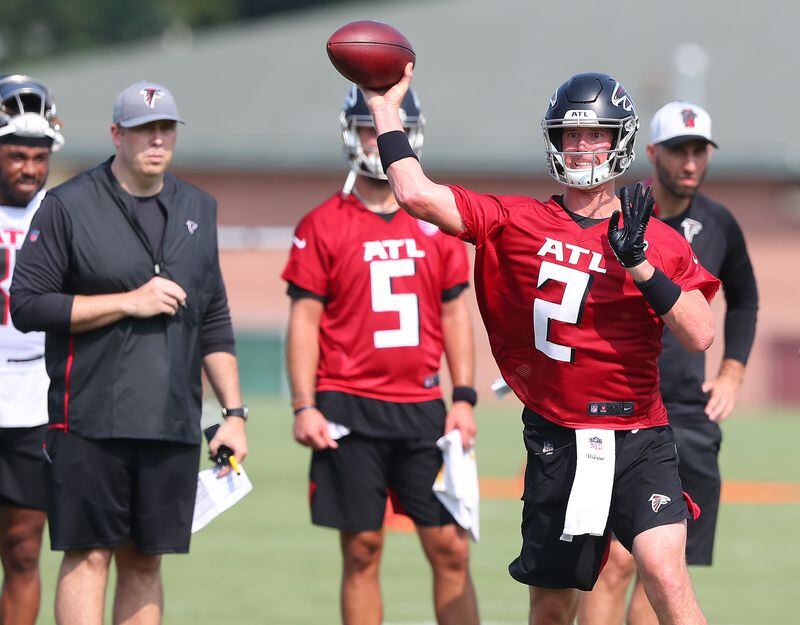 Credit: Curtis Compton / Curtis.Compton@
Credit: Curtis Compton / Curtis.Compton@
"It's my job to make sure the transition from him calling the plays is smooth," Ragone said. "Things that he doesn't need to worry about are the things that myself and the offensive staff can take off his plate. At the end of the day, it's to make his life essentially easy as a play-caller in terms of the in-and-outs of the daily activities. It's my job to do that."
Ragone has enjoyed working with quarterback Matt Ryan as the team switches back to a more balanced attack.
"Professional," Ragone said. "Cares. Smart. Works extremely hard. Wants to be the example."
With Ryan leading the way for the new regime, the rest of the players must follow.
"For us as coaches, when you have a player like that who's established within your culture, that you can coach it helps," Ragone said. "He wants to be good. He wants to be coached. Everybody else kind of falls in line from there. He's been awesome."
Wide receiver Calvin Ridley is coming off his first 1,000-yard receiving season and is ready to takeover the No.1 spot from the departed Julio Jones.
He concentrated on his footwork to attempt to improve.
"Every day, just coming out here and hitting the ladder," Ridley said. "That literally will change my footwork. I'm snapping it down and trying to get out of breaks. Just the ladder will help me transition out of my breaks faster. It just takes, you know, reps. If you do it every day, your feet are going to get better. That's anybody."
Ridley also worked on his route-running ability.
"It's not a science," Ridley said. "It's an art. It's art. It's a drawing. It's lines. It's separation, angles and stuff. That's really what it is."
The biggest question mark for the Falcons' offense is the line.
They are set to open with left tackle Jake Matthews, left guard Jalen Mayfield, center Matt Hennessy, right guard Chris Lindstrom and right tackle Kaleb McGary.
Mayfield is a rookie, while Hennessy is taking over for Alex Mack. McGary needs to improve his play.
Hennessy made two starts late last season and has shown promise.
"For me, I just focus on staying present and kind of eliminating all of the distractions," Hennessy said. "Really, avoid thinking about anything, but what I'm doing at that moment."
Hennessy believes he can make a big jump in his game. He will share some of the pass-protection calling duties with Matt Ryan. Mack used to handle all of the calls.
"I think confidence," Hennessy said. "Just a guy who's a lot more confident in myself as far as technique, scheme and physically. That's the biggest thing."
Getting the rushing attack moving will be another key for the Falcons' offense in 2021. If they can run the ball and balance out the offense, Ryan won't get sacked more than 40 times like he has over the past three seasons. Credit: Curtis Compton / Curtis.Compton@
Credit: Curtis Compton / Curtis.Compton@
"Obviously, it will be tremendously important," Hennessy said. "Offensive line-wise, we love it. Just getting to (blast) off the ball… When you are running the ball well, other things can open up as well. Getting the run game going will be of huge importance to us."
The Falcons also list rookie Kyle Pitts and Hayden Hurst as starting tight ends.
"From an offensive perspective, you'd like to put on the field as many different playmakers as possible that the defense has to account for," Ragone said. "From literally Pee-Wee all the way up through the NFL, you want the defense to have to account for multiple guys and the way you use them."
The Falcons have high expectations for Pitts, but also believe Hurst can add to the attack.
"Hayden, there's a reason why when he's out there, the effort that he gives," Ragone said. "Hayden has done a great job playing fast. He's very coachable. He wants to be a part of what we are doing and he's all in, which is great."
The Bow Tie Chronicles
For more content about The Atlanta Falcons
Follow me on Twitter @DOrlandoAJC
On Facebook at Atlanta Falcons News Now
Atlanta Falcons coverage on the Atlanta Journal-Constitution
Falcons' 2021 schedule features trip to London, January trip to Buffalo