Atlanta is often referred to as the "new cultural capital of America" and that moniker is well deserved if our folk art scene is any attestation of it.
Folk art is often defined as work created by self-taught artists, who typically aren't formally trained and use nontraditional mediums. However, Atlanta folk singer Kevn Kinney of Drivin N Cryin fame best described it as an artistic creation indigenous to an area even though he personally finds the word "folk" to be a "diatribe."
To help you navigate some of the best places to find folk art around the city, we compiled a list of five places that display folk art and art that is indigenous to the Peach State.
Pasaquan
Pasaquan, a former farmstead turned colorful visionary art environment, sits about two hours south of Atlanta in Buena Vista. The 7-acre folk art wonderland was created by the late self-taught artist Eddie Owens Martin, who worked under the name St. EOM. Martin, a close friend and frequent collaborator of the late avant-garde musician Col. Bruce Hampton, spent nearly 30 years creating "his personal utopia, where all cultures and ethnic groups can come together in harmony and connect with the earth and the universe." Martin ended up creating six major structures, mandala murals and more than 900 feet of psychedelic painted masonry walls before committing suicide in 1986. Today, the property is maintained by Columbus State University and is listed on the National Register of Historic Places due to its recognition as one of the most important visionary art environments in the United States.
Friday, Saturday, and Sunday: 10 a.m. to 5 p.m. Closed during federal and bank holidays and the months of December and July. Suggested Contribution: $10 Adults, $5 Seniors, $3 Students. 238 Eddie Martin Road, Buena Vista. 706-507-8306, pasaquan.columbusstate.edu. Credit: Bob Andres
Paradise Garden <br/>The outdoor art environment that sits on a two-and-a-half-acre swampland was created by the world-renowned folk artist Howard Finster, who began creating Paradise Garden in 1961. Paradise Garden is listed as one of Georgia's noted art attractions and has achieved pop-icon status for being the site of R.E.M.'s music video "Radio Free Europe" and for the Talking Heads using Finster artwork to create the cover of the band's "Little Creatures" album. The maze of buildings, sculptures and displays found at Paradise Garden were created by using found objects and recycled materials including bottles, bathtubs, toilets, bicycle frames and cast-off jewelry.  Tuesday-Sunday, 11 .am.-5 p.m. adults: $15, seniors: $10, students: $5. 200 N. Lewis St. Summerville. 706-808-0800, paradisegardenfoundation.org
Around Back at Rocky's Place
Around Back at Rocky's Place was established in the fall of 2002 and continually adds both new art pieces and new artists to its impressive list of self-taught artists. Rocky's Place started with 24 artists, and now, it represents more than 300. Although the gallery is genre specific in terms of the type of art it shows, southern folk art and pottery, it does not focus on only one medium, including the whole spectrum of folk art. Georgia, North Carolina, and South Carolina are the leading states for generating pottery traditions, and the gallery has nice representational pieces from the South's leading potters. If your interest lies in woodcarvings, the gallery displays the works of Kentucky's world-famous folk carvers. If it is a painting that you seek, the gallery has the work of artists from many different communities, but they all stick close to home when it comes to portraying their southern roots. In addition to all the art pieces and artists who make up the gallery, Rocky's Place is best known as the home gallery for the work of John "Cornbread" Anderson.
Saturday 11 a.m. to 5 p.m., Sunday 1-5 p.m. and by an appointment. $18 - $4,500. 3631 Highway 53 E. at Etowah River Road Dawsonville. 706-265-6030, <?EM-dummyText [...]?> The High Museum of Art
The High Museum of Art began collecting the work of living self-taught artists in 1975 and was the first general-interest museum to establish a dedicated department for folk and self-taught art in 1994. Today, the High boasts one of the most significant collections of American folk and self-taught art in the world, which is especially rich in artworks by Southern and African-American artists. Milestones in the department's collection history include the museum's 1982 acquisition of 30 drawings by then relatively unknown artist Bill Traylor, the 1994 collaboration with Howard Finster that made the High's assemblage the largest public collection of his work outside of Paradise Garden, the Judith Alexander Foundation's 2003 gift of 130 works by Atlanta artist Nellie Mae Rowe and 2017's gift-purchase with the Souls Grown Deep Foundation, which reaffirmed the High's leadership in southern self-taught art. Although known for its unparalleled holdings of work by southern masters like Traylor, Finster, Rowe and Thornton Dial, the High also has major works by self-taught artists who worked outside of the South, including Henry Church, William Hawkins, Martin Ramírez and Henry Darger. In March, the High will open its latest exhibition featuring works from the collection alongside photographs by Roger Manley and Guy Mendes in "Way Out There: The Art of Southern Backroads."
Tuesday-Thursday and Saturday, 10 a.m. to 5 p.m.; Friday, 10 a.m. to 9 p.m.; Sunday, noon to 5 p.m. (Closed Mondays). $14.50 (ages 6 and above); Free (ages 5 and under). 1280 Peachtree St. NE, Atlanta. 404-733-4400, high.org Folk Art Park
Originally designed and created as part of the Public Spaces Program of the Corporation for Olympic Development in Atlanta (CODA), Folk Art Park was the Georgia Department of Transportation's first public art project. Reclaiming several leftover portions of two cement highway bridges above Downtown's north-south interstate connector, the installation is concentrated at the intersections of Piedmont Avenue and Baker Street, and Courtland Street and Ralph McGill Boulevard. The park features the work of notable regional folk artists, including Eddie Owens Martin, R.A. Miller, James Harold Jennings, Vollis Simpson, Archie Byron and Howard Finster.
6 a.m.-11 p.m. daily. Free. The intersection of Courtland St. NE and Ralph McGill Boulevard NE, and the intersection of Piedmont Ave. NE and Baker St. NE. 404-260-5532, ocaatlanta.com.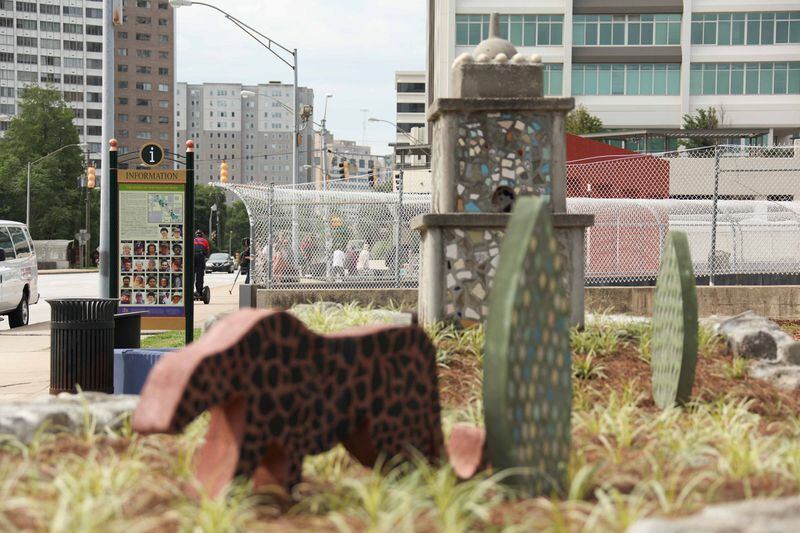 Wild Oats & Billy Goats
Wild Oats & Billy Goats is a contemporary folk art gallery on the Decatur Square that carries the work of more than 160 local and regional artisans, many of which are self-taught. You'll find paintings, hand-turned wood products, pottery, metalworks, glass, textile and paper art, hand-crafted candles and many other forms of functional art, gifts and home furnishings. The gallery opened in 2010 and rotates artists on a regular basis. They support young emerging artists through annual art showings of student works from the local school system.
Monday-Thursday 11 a.m.-7 p.m., Friday and Saturday 11 a.m.-8 p.m., Sunday 11 a.m.-6 p.m. Free. 112 E. Ponce de Leon Ave,. Decatur. 404-378-4088, wildoatsandbillygoats.com.