Two Henry County police officers were shot and a suspected gunman remained barricaded inside a home with two hostages in a Stockbridge neighborhood Thursday night, according to police.
The two male officers, whose names were not released, were taken to Grady Memorial Hospital in serious condition, according to Henry County police Capt. Joey Smith. Their conditions were not believed to be life-threatening.
The Henry County officers were the second and third metro Atlanta cops shot in the line of duty in four days.
Officers responded to the home along Eagle Court, not far from I-75 in the Eagle Ridge neighborhood, about 10:45 a.m. in response to a report of "unknown trouble," Smith said Thursday afternoon. Investigators believe a relative of someone inside the house called 911 to report some type of violence.
The officers arrived at the scene and forced their way into the home when they were shot, Smith said. The officers did not return fire.
AJC ON THE SCENE: Photos from Henry County shooting
One officer was struck in the hand and the second was hit in the torso and hip area, according to Smith. The officer struck in the hand was able to assist his fellow officer getting out of the home.
The two officers, both in their 30s, have been with the police department for several years. Their families have been notified, Smith said.
SWAT negotiators were still trying to get the barricaded gunman out of the home late Thursday, police said. The suspected gunman is believed to have a 16-year-old boy inside along with a woman, who is another family member, Smith said. The teenager is not believed to be harmed, but Smith did not know the condition of the woman in the home.
The suspect refused to assure police the two inside the home were uninjured, so officers resorted to firing tear gas into the home around 9 p.m. However, an attempt to enter the home was halted when the suspect fired multiple shots at SWAT officers, Smith confirmed at 11 p.m. No one was hurt, and officers have not returned fire or engaged with the suspect since then.
At 11:30 p.m., the suspect remained barricaded as the standoff neared its 13th hour.
Neighbors were told to stay away from the crime scene, including Lena Holt, who saw the police presence on her street through her video doorbell. Holt, who lives across the street from the house where the shooting occurred, said she was alerted to the massive police presence about 11 a.m.
She was in Marietta visiting her son at the time, but rushed back to find out what was going on.
"My Ring went off and I opened it up and I said, 'What is all this going on,'" she told AJC.com. "And it's right here on my street. It's very weird."
Some neighbors have been trapped in their homes, and many told Channel 2 Action News they heard loud bangs and gunfire around 9 p.m.
"It was like a bomb went off at first, but now it's just shooting — a lot of shooting," Dwight Taylor told Channel 2 Action News on the phone.
One of the injured officers was flown to Grady and the second by ambulance, Smith said. Police temporarily blocked I-75 in the area of Hudson Bridge Road as the wounded officers were taken to the hospital.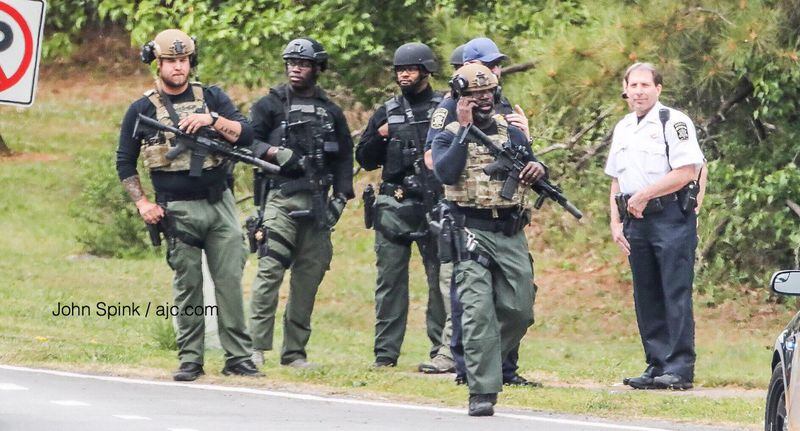 Credit: JOHN SPINK/JSPINK@AJC.COM
Credit: JOHN SPINK/JSPINK@AJC.COM
All lanes later reopened, but heavy traffic delays remained in the area in both directions.
Russell Blanding, a resident of Eagle Ridge subdivision, was stuck in his home all day as the standoff played out. He was getting ready to go to work when law enforcement arrived and cordoned off the neighborhood.
"It's sad that this happened, but, 'Man, we're on lockdown,'" he told AJC.com.
Blanding said he did not know the residents in the home and that they have lived there only for the past six months. He described the community as friendly, but changing, as Henry County — the second-fastest-growing county in metro Atlanta — explodes with new residents.
"The demographics are just changing," he said. "I used to be able to go from here to Gwinnett (County) in no time, but not anymore."
Several nearby police agencies, including Jonesboro and Clayton County, also responded to the scene.
The GBI said Thursday it was not called in to assist with the investigation. So far this year, the agency has investigated 27 shootings involving police officers.
Thursday's shooting comes just days after a Union City police officer was shot multiple times Monday evening after responding to a home on Stonewall Drive. Officer Jerome Turner Jr. is stable and recovering at Grady after undergoing surgery, police said. A fellow Union City officer was seen carrying "Get Well" balloons into the hospital Thursday afternoon.
RELATED: GBI identifies Union City police officer wounded in shootout
It was the second time in four months a Henry County officer was shot in the line of duty. On Dec. 6, Officer Michael Smith was shot while trying to subdue a man outside a dental office. Smith, 33, died from his injuries Dec. 28. Six Georgia officers died in the line of duty in 2018, including four in metro Atlanta. Smith was the second Henry officer to die in 2018. In February, Locust Grove police Officer Chase Maddox was shot and killed while assisting deputies serving a warrant.
MORE: Henry officer is Georgia's 6th killed in line of duty this year
ALSO: Henry County officer remembered by hundreds: 'He saved lives that day.'
So far this year, one Georgia officer has been killed in the line of duty. On Jan. 29, Glascock County Deputy Joshua Ryer Jr. was killed in a two-vehicle crash while on the way to pick up an inmate. The 19-year-old had been with the department for five months.
Henry County students and teachers are on spring break this week and no schools are affected by the police presence. Some children in neighboring homes remained inside until their parents arrived to pick them up.
— Please return to AJC.com for updates.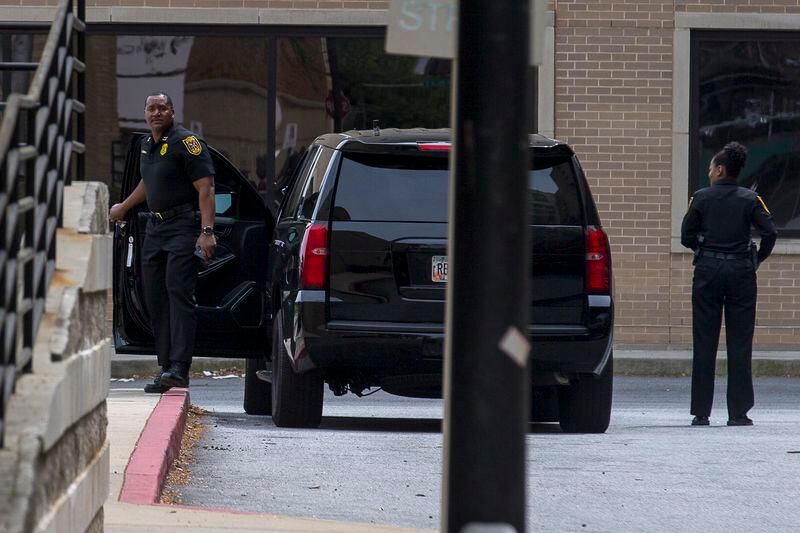 Credit: Alyssa Pointer
Credit: Alyssa Pointer