IOWA CITY, Iowa — When freshman Matt Hankins prepared for his first start last week, fellow cornerback Josh Jackson passed on some advice.
"Be confident," Jackson said. "That's the main thing. Don't be nervous. Don't shy away. Just step up."
It was the same guidance he would have given freshman safety Geno Stone, if time permitted, when Stone replaced an injured Miles Taylor in the first quarter.
Stone somehow followed the advice, anyway, and as a result, the Hawkeyes should have confidence in both teenagers. Not just in the long-term, but in the present. Each strengthened areas of concern in the secondary and showed they are more than ready to start in the bowl game.
Jackson's words of wisdom were simple and basic. It's fitting because focusing on the basics put both in a position to succeed at Nebraska.
Don't be fancy
Coaches don't want players to be Superman. Freelancing and trying to make big plays can lead to problems. Iowa coaches ask their defenders, not just freshmen, to do their job and make the play in front of them.
Hankins and Stone did just that. In fact, it was the best thing they did last Friday. In the first quarter, Nebraska running back Mikale Wilbon tried to break a run outside, but Hankins was there to stop him at the line of scrimmage.
Stone also stepped up in run support. At safety, his job is a little different. He often finds himself as the last line of defense. He must bring down a ball carrier to prevent a highlight-reel run.
When Wilbon found a sizable hole on the left side of the line, Stone, along with fellow safety Jake Gervase, made the tackle in open space.
The easiest way for a youngster to head right back to the bench is to give up a big play. It's one of the biggest sins an Iowa defender can commit. Neither Stone nor Hankins allowed a touchdown or were beat deep in coverage.
Doing their job, such as stepping up in run support, helped ensure it didn't happen.
"[Hankins] didn't shy away from anybody," Jackson said. "He came in and did a really good job.
"Geno came down and made tackles. I thought they played well."
Playing the pass
If someone starts in the secondary, that player needs to defend the pass well. Again, Hankins and Stone made the plays they needed to against the Cornhuskers.
On a third-and-8, Hankins' job was to make sure Nebraska didn't move the chains. He stuck with wide receiver De'Mornay Pierson-El and batted away the pass.
Hankins is an intriguing cornerback because of his 6-foot-1 frame. It helps him defend passes such as the play above. Also, his quickness and ability to react to plays is a strength. He showed both while covering a curl route in the first half.
"Nice burst on the ball to stop the hitch route," said FS1 analyst Danny Kanell on the broadcast.
Stone stood out in coverage as well. A safety isn't in 1-on-1 coverage as often as a cornerback, but Stone showed the same ability to diagnose passing routes as Hankins to make a third-down stop.
"Stone [with] great route recognition from the safety position," Kanell said. "He saw the shallow cross coming and then exploded up and made the open-field tackle."
Room to improve
Stone tied for the team lead with 8 tackles. Hankins recorded 5 tackles and 1 pass breakup.
It was a good day, but neither received perfect marks. Stone's block in the back negated an Ihmir Smith-Marsette kickoff return for a touchdown to open the second half. Hankins missed a tackle in coverage and it turned a 12-yard reception into a 19-yard play.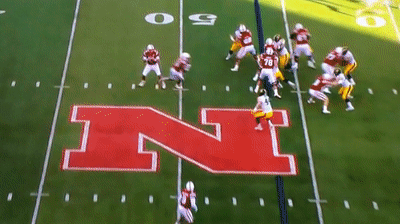 Still, when the worst defensive miscue adds up to 7 yards, it's an indication of a good performance. Eight members of the Class of 2017 played at Nebraska. Arguably, no two were more vital to the win than Stone and Hankins.
"They have a chance to be really good players if they keep pushing it," coach Kirk Ferentz said.
They showed they're already good enough to start. Hankins likely will get the chance to in the bowl game. Stone's situation depends on the health of Taylor, but he showed he won't be a liability if called upon.
Jackson's advice will guide them. Be confident. Make the basic play.
Doing both will go a long way to living up to the potential Ferentz sees in both.
The post Iowa's Matt Hankins, Geno Stone heed advice, shine in bigger roles appeared first on Land of 10.
Support real journalism. Support local journalism. Subscribe to The Atlanta Journal-Constitution today. See offers.
Your subscription to the Atlanta Journal-Constitution funds in-depth reporting and investigations that keep you informed. Thank you for supporting real journalism.