IOWA CITY, Iowa — Iowa football is back. And with it comes plenty of questions following the season opener on Saturday.
How did quarterback Nate Stanley look in his debut? What went wrong with the offense in the first quarter? How dominant was the defense?
We'll answer each of those, and more, in the Land of 10 Iowa film room after a re-watch of the 24-3 win against Wyoming.
What happened with the Iowa offense early?
Stanley is the big question with a performance full of highs and lows, but to properly explain his day the first-quarter struggles must first be examined.
The Hawkeyes' first three series each lasted three offensive plays and netted a total of 12 yards. Let's look at the first series. Wyoming loaded the box — the area between the two tackles — with defenders to try to stop the run.
| | |
| --- | --- |
| Play | Defenders in the box |
| First down | 8 |
| Second down | initially 8, 7 upon snap |
| Third down | initially 8, 7 upon snap |
The Cowboys weren't afraid to pile up players in the box, even throwing as many as 9 defenders there on some snaps. Wyoming disguised its line stunts and blitzes well, which proved an early problem for an offensive line playing without starters James Daniels and Boone Myers early on.
The Hawkeyes ran jet sweeps, draws and pulling guards on running plays. Wyoming had enough players near the ball to stop those runs.
Wyoming also did a great job generating pressure on Iowa's first three third downs. Two resulted in incompletions and the third was an interception. It all goes back to men in the box and disguising pressure.
Take Iowa's first third down of the game. The Cowboys show a double-A-gap blitz with a linebacker over each shoulder of center Keegan Render.
Upon the snap, two defensive ends get to Stanley quickly — one quickly beating left tackle Alaric Jackson, the other looping behind a defensive tackle and the two blitzing linebackers on a stunt. Stanley must throw the ball quickly and it falls incomplete.
The Cowboys liked showing the double-A-gap blitz. It's a staple in the NFL and new defensive coordinator Scottie Hazelton just spent three seasons with the Jacksonville Jaguars. It produced good results early.
It was surprising to see Iowa abandon its bread-and-butter running play, the zone run, for most of the first quarter. Iowa tried some new things on offense in the first few series, mainly designed to get players the ball in space.
It didn't work, not with how Wyoming chose to scheme its defense. The offense didn't start moving until the Hawkeyes went to a traditional look — two tight ends and the zone run. Iowa gained 38 yards and two first downs on that fourth drive.
More importantly, the run game moved the ball against the stacked fronts. Butler gains 7 yards on this inside-zone run with eight defenders in the box.
The series ended with a fumble on a jet sweep, but it that didn't nullify its importance. It showed Iowa how it needed to play to beat Wyoming. The Hawkeyes leaned on Akrum Wadley and two-tight-end zone runs to move the ball. Wadley carried 24 times for 116 yards in the game.
How well did Nate Stanley play?
Stanley finished 8 of 15 for 125 yards, 3 touchdowns, 2 lost fumbles and 1 interception. Upon second look, however, he looked better than watching him live.
The start was bad. He began 0 of 4 with the interception, but it wasn't all on him. He threw a good pass to Noah Fant, but a defender knocked the ball loose. No Iowa signal caller was going to do much with the constant pressure on third down.
The Hawkeyes didn't ask Stanley to win the game, but they did need him to make a few big plays. And ultimately, he responded.
Take the team's first touchdown drive. It came on the fifth series, right after Iowa found zone-running success. Eight of the 11 plays on the scoring drive were runs. But on fourth-and-goal from the 2-yard line, the Hawkeyes turned to Stanley to get them in the end zone. He connected with tight Fant on the touchdown pass, gaining much-needed confidence in the process.
Wyoming's aggressive defensive approach left openings downfield. And Stanley, with a rifle for a right arm, is the Iowa quarterback best-suited to take advantage of it. He did just that with two more big touchdowns passes, a 27-yard toss to Fant and a 45-yard throw to wide receiver Nick Easley.
The throw to Fant highlights the adjustments and progress Stanley and the offense made during the game. Wyoming lines up in the double-A-gap blitz again. This time, the offensive line gives Stanley time to throw. Wyoming linebacker Cassh Maluia faked the A-gap blitz and never recovered. Fant blew past him. Stanley found his tight end for the easy score.
Stanley settled down after the poor start. After the first three series, Stanley went 8 of 11 for 125 yards and 3 touchdowns. Two of those incompletions were drops by Fant. Stanley did what he was asked: make a few intermediate throws off play action and a few deep passes.
The Hawkeyes kept it simple and Stanley did his job. It's a good starting point.
Now, about the turnovers. First, the interception. Jackson missed a block. Stanley was under pressure and his pass was tipped. Stanley deserves some blame, but there is plenty to go around.
The first Stanley fumble was a great play by Wyoming defensive end Carl Granderson. Stanley quickly tried to get rid of the ball off a five-step drop. Granderson gained inside position on offensive tackle Ike Boettger and lunged at Stanley, knocking the ball out before it was released.
The second fumble is on Stanley. After calling an audible, the rest of the offense went to the right. But Stanley went to the left and he coughed it up when hit.
Three turnovers is horrible. It's too many. But there isn't a consistent pattern as to why they occurred and he couldn't do much about a couple of them. The turnovers seem correctable and don't stand out as much as what Stanley did when asked to throw the football.
What stood out most with Iowa's defense?
There are a lot of choices and they'll all get covered. But the play of the secondary stood out live and on the re-watch.
Especially cornerback Joshua Jackson.
Jackson was fundamentally sound. He played well in space, kept receivers in front of him and tackled well, making 5 stops. He was beat inside on a corner route, but recovered with a great individual play to bat away a pass in the end zone.
His interception on an out route — one of about a 1,000 Wyoming threw — highlighted his instincts at the position.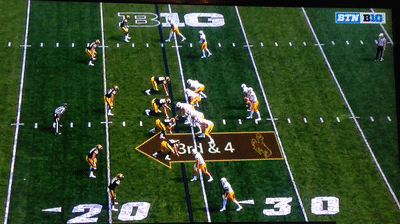 Wyoming's best bet to beat Iowa was to let quarterback Josh Allen throw it deep. Oddly, the Cowboys didn't do that very much. But Iowa's secondary didn't give up many looks downfield.
In all, Allen took just four shots deep. Safety Jake Gervase and Jackson batted away two of them. Allen overthrew a receiver in the end zone on another and Wyoming wide receiver C.J. Johnson didn't corral a pass until he was out of bounds on the fourth.
The secondary was a question mark coming into the game. Iowa must feel better about the position group after it got the better of Allen, a potential first-round NFL pick. Allen went 23 of 40 for 174 yards and 2 interceptions.
No room to move
The run defense was nearly as impressive as Jackson's play. Wyoming gained only 59 rushing yards on 30 carries. There was no room to move and the defensive front controlled the line of scrimmage for all four quarters.
The best example of why the run defense was so good came in a first-quarter fourth-and-1. Defensive tackle Nathan Bazata blows up the play before it gets started. He easily moves around Wyoming center Logan Harris and forces running back Milo Hall to scramble to his right.
Defensive end Parker Hesse also gets penetration in the backfield. There is nowhere for Hall to go and the rest of the defense wraps him up for a loss.
Five times the Cowboys ran on third or fourth and three or less. Four times they failed to get the first down.
It's too early to make any declarative statements about Iowa's rush defense. Wyoming started a new running back and two first-year freshmen starters on the offensive line.
But this was as good of an opener against the run as the Hawkeyes could put together.
Here are a few other defensive observations:
The linebackers played very well in space. Iowa will need to see the same thing against Penn State on Sept. 23. Josey Jewell recorded 14 tackles, 2.5 tackles for loss and 2 sacks. Ben Niemann made 13 tackles and 0.5 sacks while also forcing a fumble.
A.J. Epenesa flashed more potential than his 2-tackle, 1-TFL and 1-sack state line indicates. On one play, the true freshman used a nifty pass rush to get to Allen off the corner, but didn't finish.
Arguably Epenesa's most impressive play was when he bull-rushed a Wyoming offensive tackle right into Allen.
In time, Epenesa will finish those kinds of plays. The question is when. Don't be surprised to see it happen before the season ends.
Also, his sack appeared to be more of tackling Allen on a jet sweep option than a drop-back pass.
Final Thought
The defense put together a strong performance. Outside of Allen, Wyoming looked like a second-division unit. That's no knock on the Cowboys — it's the reality of a Mountain West team breaking in a lot of new starters. How Iowa fares against Iowa State's skill-position players this weekend will give a better indication of where the defense is.
The biggest takeaway from the game is the Hawkeyes can't forget their identity. New offensive coordinator Brian Ferentz wants to do some different things. When they aren't there, especially in the running game, Iowa can't be afraid to go back to its old favorites.
It worked against Wyoming and it likely won't be the last time the Hawkeyes will need to do something similar this season.
The post Iowa film room: Nate Stanley played better than it seemed, Josh Jackson dominated appeared first on Land of 10.
Support real journalism. Support local journalism. Subscribe to The Atlanta Journal-Constitution today. See offers.
Your subscription to the Atlanta Journal-Constitution funds in-depth reporting and investigations that keep you informed. Thank you for supporting real journalism.
Download the new AJC app. More local news, more breaking news and in-depth journalism. AJC.com. Atlanta. News. Now.
Download the new AJC app. More local news, more breaking news and in-depth journalism. AJC.com. Atlanta. News. Now.
With the largest team in the state, the AJC reports what's really going on with your tax dollars and your elected officials. Subscribe today. Visit the AJC's Georgia Navigator for the latest in Georgia politics.
Your subscription to The Atlanta Journal-Constitution funds in-depth reporting and investigations that keep you informed. Thank you for supporting real journalism. Visit the AJC's Georgia Navigator for the latest in Georgia politics.